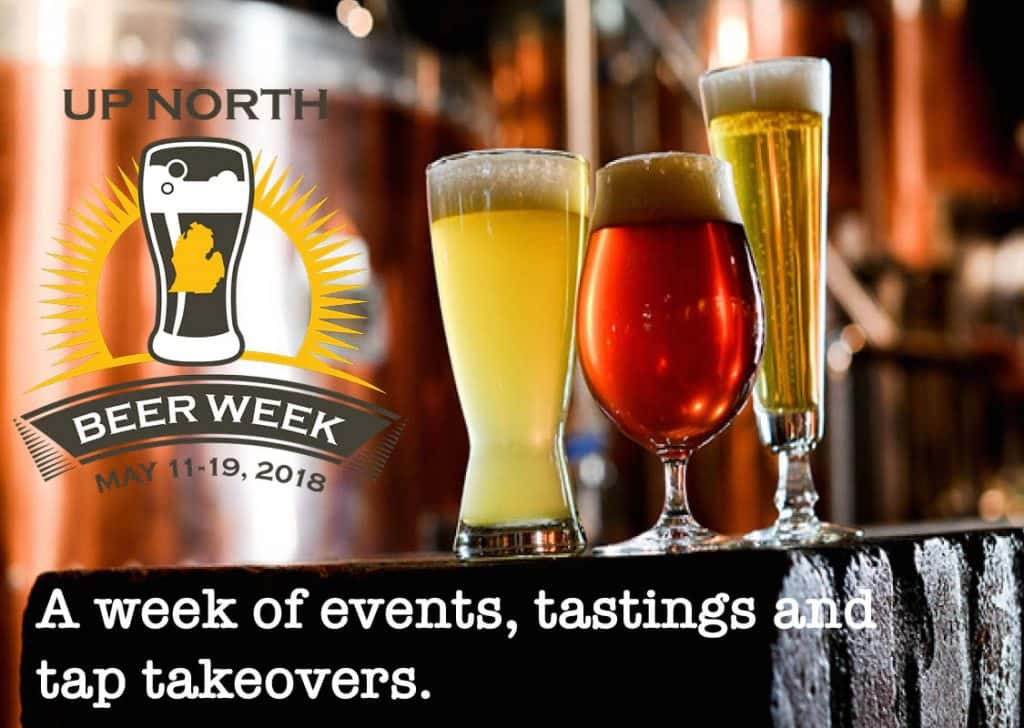 Northern Michigan has become a craft beer destination with some of the best breweries and taprooms in the country… right at our backdoor. Lite 96.3 is so excited to be part of a week dedicated to celebrating, tasting and sharing with friends… the love of beers and ciders.
Up North Beer Week is May 11-19th. To stay on top of all the events and tastings, make sure you LIKE the Up North Beer Week Facebook page.  And all the events, the VIP Passport and participating Beer Week stops are all at UpNorthBeerWeek.com.
Mark your calendar and plan your week…. there are so many fun events!
Get your VIP Passport full of discounts at each participating brewery and restaurant and a souvenir Pilsner Glass to toast the first Up North Beer Week. Save money (over $100!) and get the most out of your week with the VIP Passport. Click here to buy yours!
Participants include:
Petoskey Area
Petoskey Brewing
Mackinaw Trail Winery and Brewery
Burnt Marshmallow Brewing
The Noggin Room
Duffy's Garage and Grill
The Pub
Palette Bistro
Boyne City Area
Boyne City Block Party
Stiggs Brewing
Boyne City Tap Room
Cafe Sante
Lake Street Brewery
Harbor Springs Area
Tunnel Vision Brewery at Pond Hill Farm
Pierson's
Teddy Griffin's Road House
Gaylord/Wolverine
Sugar Bowl
Taproom 32
Thirsty Sturgeon
Mackinaw City
Biere De Mac Brew Works
Mackinac Island Brewing
Events:
Beer Week Events
Join KHQ's Fish to kick off Up North Beer Week at Biere De Mac Brew Works with Originals Night on Friday night, May 11th. It's great night of music featuring Sean Miller and Eliza Thorp. Music starts at 7pm and there is no cover charge. Enjoy a great Chef's special and 14 unique craft brews with $3 select pints.
Cafe Sante in Boyne City is offering "Belgian Style Beer Class" with Mr. Borgeld, Certified Cicerone, during happy hour 3-6pm on May 11, 12, 14 and 15.    Mr. Borgeld is one of the few Cicerones in Michigan and you'll find his classes fascinating.  Classes will offer Belgian beer history, brewing processes & ingredients, and tastings. Definitely a must for beer geeks and anyone who loves beer.  And during Three@3Happy Hour,  $3 classic cocktails and $3 happy hour snacks.  $1 off all other libations. (Not including Mother's Day)
It's time to play Beer Bingo at the all new Sugar Bowl in Gaylord. They're rolling out the old school game with some brew fun thrown in both weekends of Up North Beer Week. They'll play each both Fridays  at 7pm (May 11 and 18) Plus, on Saturday nights, they'll make dinner great with their 10oz prime rib with a beer for just $20.
Join KHQ's Aaron Santini Saturday May 12th, as Tunnel Vision Brewery at Pond Hill Farm is rolling out kegs of their brand new summer cider Somerset Cider. Be the first to taste and enjoy a walk around the farm.
It's Sandwich Sunday at The Mitchell Street Pub on Sunday, May 13th. All day long, get their piled high French Dip with an Oberon for $9.95
May 14th is Pint and Paint Night at Duffy's Garage and Grill in Downtown Petoskey. Tickets are $30 in advance, $35 at the door. RSVP at 231-348-3663.
May 15th is Happy Hour All Day Long at Stigg's Brewery in Boyne City. Get $2 Stigg's pints all day long.
Tuesday, May 15th is Girls Pint Out at Petoskey Brewing. This is the first meeting of the local chapter of women who enjoy beer, friendship and want to contribute to the community. KHQ's Heather Leigh is going to be there and you should be there too. It's a great way to meet other women and share a pint. It all starts at 7pm. There will be $2 off pints all night.
Wednesday is Pints for Paws at Taproom 32 in Gaylord. Stop in all evening long and enjoy a pint or two. $1 from every pint sold will go to 4 Paw Love, a great Gaylord group that helps pets in need of medical care. The event kicks off at 6pm and goes all night.
Wednesday May 16th is Wing Wednesday at Teddy Griffin's Roadhouse. They're celebrating with a pint of their exclusive Petoskey Brewing Big Head Belgium White Ale and 8 yummy wings for only $13.50 all night long.
Wednesday, May 16th is also Beer and Pretzel Night. In Harbor Springs, Pierson's will be serving Pierson's exclusive Parallel Beer all night long with their delicious soft pretzels and beer cheese for $8.
May 17th is Beers and Balls at The Thirsty Sturgeon in Wolverine. Chow down on their fabulous balls… Ruben and Buffalo for half off. Add $.75 wings and $2 drafts for a night of yum.
Thursday, May 17th is Whole House Happy Hour at Palette Bistro. Celebrate your favorite beer and food pairings with $1 off draught and bottled beer paired with 40% off all small plates. Taste and share with your friends from 4-6:30pm.
Join Fish Thursday, May 17th for the Boyne City Block Party. 20 craft beer, food and lots of fun to kick off the National Morel Mushroom Festival. The Galactic Sherpas will play, food trucks and lots of beer choice make this a great night. Petoskey Brewing, Cheboygan Brewing, Cigar City, Ellison Brewing, North Peak, Perrin, Bells, Founders, New Holland, Dark Horse, Arcadia, Shorts, Starcut Cider, Bee Well Meadery, Pre Dock, Pigeon Hill, Triple Root and Gonzo's Big Dog will all be pouring. Food from Happy's Tacos, Red Mesa Grill, Stigg's Brewery and Boyne City Bakery will be making tasty food.  The block party is in the 100 block of South Lake Street from 5-9pm. (Rain location in the Mushroom Festival tent at Veterans Park) Admission is $18 and includes a souvenir cup and 5 taste tickets.
Thursday, May 17th is also Trivia Night at the Boyne City Tap Room in Boyne City. After the Block Party, head to the Tap Room's Pine Lake Lodge (upstairs) and play trivia with all your friends. It all starts at 7pm. You know beer makes you smarter… right? Get your team together and make it a night.
Summer is almost here… so let's celebrate on Friday, May 18th at Mackinac Island Brew House in Mackinaw City. They are rolling out all their summer ales from your favorite local breweries and giving you $5 pints all night long. It's summer time in a glass. Summer Ale Pint Night…. catch the sunset and your favorite brew.
Join KHQ's Lisa Knight on May 19 for Customer Appreciation Day at Mackinaw Trail Winery and Brewery. Celebrate the day with live music from Moon Howlers from 2-5pm, select $3 pints, great food and 20% off all beers and ciders. The grill will be going too with free hotdogs. Party in the barn overlooking the beautiful vineyards.
Close out Up North Beer Week with  KHQ's Jimmy Hot Keys Saturday, May 19th… at the Noggin Room in Stafford's Perry Hotel. It's Pint Night with special prices on pints, beer swag, music from Sweet Tooth from 8-11, great food specials including a Petoskey Cheese and fruit plate or Chef Martin's polish sausage or cheddar brats. It's going to be a great way to end the week!