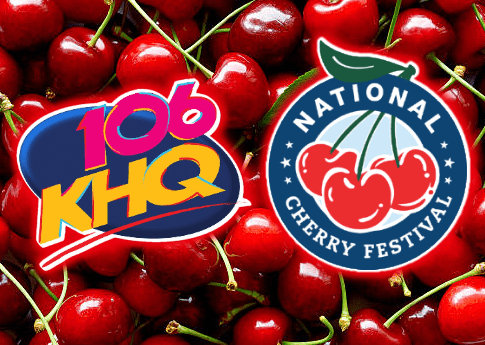 106 KHQ is proud to be part of the 2018 National Cherry Festival
Join us all week for some fun including:
Sunday, July 1st: The Great American Picnic. Watch the Blue Angels as they perform over West Grand Traverse Bay, while enjoying cherry inspired picnic food starting at 12:45. Plus outdoor games for the kids!
Thursday, July 5th: Teen Beach Volleyball. At the West End Courts at 9am. Get your team signed up now.
Thursday thru Saturday: Ultimate Air Dogs. See amazing dogs in this one of a kind agility test.
Friday, July 6th: Cherry Idol Auditions at 10am. If you have what it takes, sing your heart out on the entertainment stage for big prizes. Register Here.
Saturday, July 7th: Cherry Idol Finals at 2pm in the Open Space
Catch Fish as he broadcasts live on Thursday and Friday from the open space from 2-6pm
And don't miss the KHQ Crew in the Grand Royale Parade on Saturday at 11am!