If you are looking for a new furry family member for your home, please consider adopting from one of our area shelters. There are thousands of pets each year in Northern Michigan who lose their family for one reason or
another. Rescue is love!
From the Little Traverse Bay Humane Shelter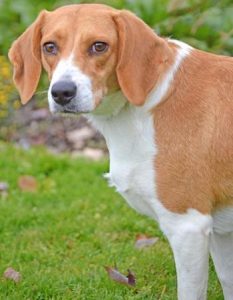 My name is Finx and I'm a sweet Beagle mix that is forever finished with motherhood and ready for a loving home. I'm two years and very good with everyone. What more can I say? I'm quiet, clean, and very well mannered. However, I am a Beagle and will need to be contained, either with a fenced in yard or leash, otherwise I may wander around the neighborhood-especially if I catch the scent of something interesting. I sure wish you would come in and pay me a visit because a forever family is what I desire more than anything.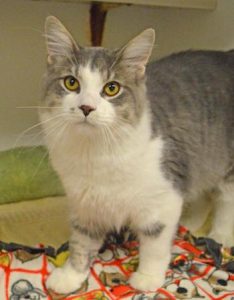 The name is Weasel and I'm a long hair grey and white cat that is fairly quiet and keeps to himself. I'm only six months old so there's room for growth and expanding my horizons. I don't mind visitors at all, but my hope is give my heart to a loving family. The holidays are coming up and my mind wanders to thoughts of "There's no place like home." I think I heard that once in a movie when I was just a wee little ball of fur. Anyway, I'll keep my paws crossed that I find my forever home soon.
The LTBHS located on West Conway Road, between Petoskey and Harbor Springs is a no kill shelter that helps find  homes for over 500 dogs and cats each year. The LTBHS is completely funded thru donations. All pets adopted from LTBHS are neutered and have received a vet check and shots. For more information about all pets available for adoption or to donate, visit them online at www.ltbhs.com

Cherryland Humane Society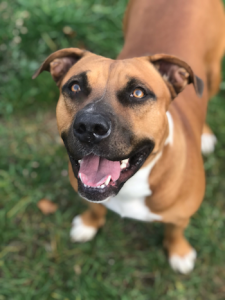 Our Pet of the Week this week is Camo, he is about 8 years old, chill and a big lover! He loves naps, is great with people and very smart. Loves to shake. Loves to walk and explore. Super treat motivated. Just an awesome handsome dog. He is picky with his dogs, some he's good others he's not a fan of.
Come in for a visit or you can check them out on our website, CherrylandHumane.org.
Cherryland Humane Society is a private, no kill animal shelter servicing Grand Traverse and Leelanau counties. We are an independent, 501-C, non profit organization. CHS is dependent on donations, fundraising activities, estates, planned giving, memorials and occasional grants for operation. Visit our available pets online at cherrylandhumane.org
AC PAWS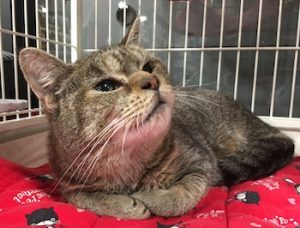 GRACIE IS OUR AC PAW PET OF THE WEEK and one of four cats we are featuring this week rescued from a hoarding situation in Kingsley. They are four of 86 cats that were rescued by AC PAW. Most all have been placed, but we have some still in foster homes waiting to be adopted.    Gracie is a very sweet cat who is still learning to trust people. She has never known the love of a family until now.  Gracie loves to be brushed and have her face rubbed. She has a very unique walk. She is good with her foster mom's kitten and should be okay with other cats if introduced slowly.  She has never been around dogs. She would do well in a quiet home with older children. She is a short hair three year old brown tabby. If you would like to adopt Gracie or for more information,  go to ACPaw.org and  fill out a pre-adoption questionnaire.
AC PAW was founded in 1995 to give animals a second chance at life. The non-profit, no-kill shelter started as a safe haven for animals from abuse, hunger, disease and death. AC PAW has now rescued over 6,000 animals in the northern Michigan region and services the five-county Grand Traverse area.
Help From My Friends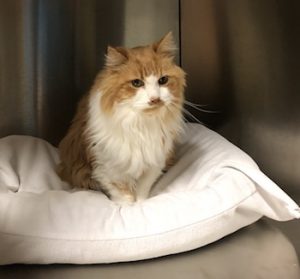 Handsome Cousin is looking for a new home after his owner passed away. He is easy going and loves a good brushing. Cousin is 13 years old, neutered, tested negative for FeLV/FIV, up to date on shots and microchipped.
For more information visit helpfrommyfriends.org or facebook.com/walhfmfpetcrisiscente

From the Charlevoix Humane Society
Meet Logan.  We have him listed as a 2 year old Parson Russell Terrier mix. Logan came to us from another shelter and we are still getting to know each other. Logan seems to have the traits of a Jack Russell Terrier.  Smart, intense and ready to play hard. If you are looking for a high activity dog, please come and spend some time to get to know Logan.  He may just be the perfect fit.
The Charlevoix Human Society's mission is to practice and promote the principle that every life is precious. As such, we are committed to the highest principles of humane care and professional treatment of injured, ill, neglected or abused animals. For more information on pets that are available for adoption or to donate, visit the shelter at 614 Beardsley Street in Boyne City or online at www.charlevoixhumane.org
From AuSable Valley Animal Shelter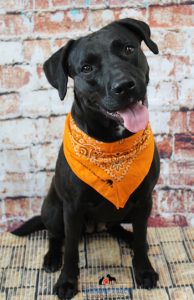 Two year old Marigold is an exceptionally nice girl. She is Lab mixed with Mystery Mutt and has a very intelligent and thoughtful nature. Marigold does know some simple commands and has a good start on house training. She needs work on her leash manners though because she does still pull.
This is not a particularly brave dog so she sometimes acts apprehensive around strangers but the people that she knows are dear to her. Marigold will be so happy to be adopted and have a family to dote on. She is okay with other dogs but can be a bit of an alpha so may be more suitable as an only dog. Marigold can not live in a home with cats so a feline free home is a must.
This dog has been spayed, vaccinated and micro-chipped. Marigold is all ready to go home!
For more information, please call the shelter at (989) 348-4117 or e-mail: avascares@yahoo.com
AuSable Valley Animal is a privately funded nonprofit animal shelter. We are a No Kill facility and stray center for dogs within Crawford county and a closed admission No Kill cat shelter. Our main goals are rehab and rehome, education, and animal welfare within our community.
Visit us online at www.ausablevalleyanimalshelter.org.
From Cheboygan County Humane Society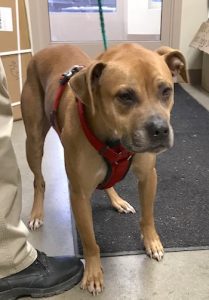 Rex is 7 years old and already neutered. He's a Boxer mix.  Rex is good with kids and dogs but not sure about cats.  He is house trained and walks well on leash.  His adoption fee is $90.00
Please visit their website at cheboyganhumanesociety.org. Or stop by the shelter at 1535 Hackleburg Road, Cheboygan. Call 231-238-8221 for more information. Shelter hours are Mon-Fri 9-4pm and Saturday noon-4pm.
Heather's Hounds is brought to you by Tropic Cove, located behind the D&W Plaza in Petoskey. Visit Tropic Cove online or follow them on Facebook.