If you are looking for a new furry family member for your home, please consider adopting from one of our area shelters. There are thousands of pets each year in Northern Michigan who lose their family for one reason or
another. Rescue is love!
From the Little Traverse Bay Humane Shelter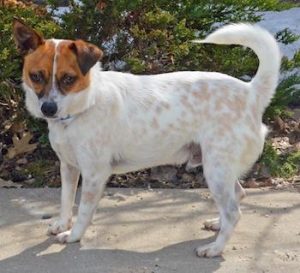 My name is Bobby and I'm a very friendly two year old terrier mix. If you squint and use your JRT imagination you may see a little of the Jack Russell Terrier in my profile and personality. I'm not very fond of cats or small children, although the latter is because I don't like to share my stuff-food, toys that sort of thing. Cats are just plain annoying. I don't mind other small dogs like me, but keep in mind that I don't like to share my food, so you'd have to use caution at feeding time. Other than that, I'm a sweet little guy, some might say a typical terrier, but I like to think of myself as a great companion to a JRT lover!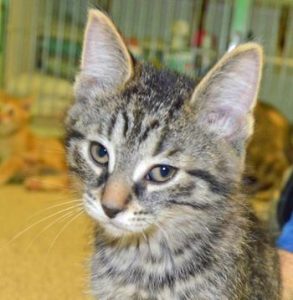 You'd think that a little kitten like me wouldn't find himself homeless, but here I am. I'm not exactly sure how that happened, but now I'm looking for a new family to call my own. My name is Conner and I'm an eight week old kitten in search of the perfect home. What's there to say about me? I'm pretty darn cute (if I do say so myself) and sweet-what more could you want in a new kitten companion? I hope that's what you're looking for anyway-if so, you know where to find me! I hope to meet you soon!
The LTBHS located on West Conway Road, between Petoskey and Harbor Springs is a no kill shelter that helps find  homes for over 500 dogs and cats each year. The LTBHS is completely funded thru donations. All pets adopted from LTBHS are neutered and have received a vet check and shots. For more information about all pets available for adoption or to donate, visit them online at www.ltbhs.com

Cherryland Humane Society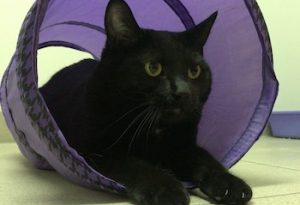 CHS Pet of the Week this week is Pong. Pong is a 2.5 year old female kitty that has been at CHS for over 300 days! She arrived as a stray and it took her some time to learn how to trust people. With a lot of help from volunteers and staff, Pong has come out of her shell and is living in our Peace Room, where she can see more people, has more space to play, be seen and loved. She can be shy and unsure of new people and places. With time and patience she warms up and asks for pets and snuggles. Pong will now even crawl into your lap and take a nap. She is a purr machine and does love to play as well. You can find her watching out her room window, very curious to everyone passing by and asking for someone to come in and play. Pong is one of our longest term cats and we need to find her a home!
Come in for a visit or you can check them out on our website, CherrylandHumane.org.
Cherryland Humane Society is a private, no kill animal shelter servicing Grand Traverse and Leelanau counties. We are an independent, 501-C, non profit organization. CHS is dependent on donations, fundraising activities, estates, planned giving, memorials and occasional grants for operation. Visit our available pets online at cherrylandhumane.org
AC PAWS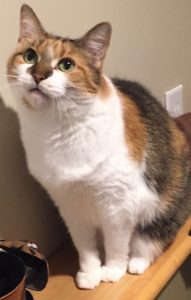 Sassy Girl came to AC PAW when her owner passed away. She is a very pretty girl, a short hair calico. She is front declawed. Sassy would do best in a quiet adult home with no small children. She does not like to share the stage with any other animals, so will need to be your one and only queen of the house. She has so much love to share with just the right family. Sassy is going to celebrate her ninth birthday. She still has many quality years to be your best friend and companion. If you would like to meet or adopt Sassy, go to our website at
www.acpaw.org
and fill out a pre-adoption questionnaire.
AC PAW was founded in 1995 to give animals a second chance at life. The non-profit, no-kill shelter started as a safe haven for animals from abuse, hunger, disease and death. AC PAW has now rescued over 6,000 animals in the northern Michigan region and services the five-county Grand Traverse area.
Help From My Friends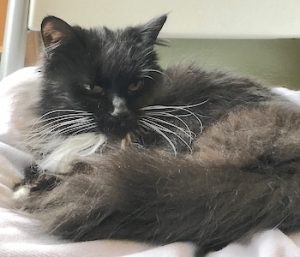 Zeba is a beautiful long hair princess. She lost her home due to owner's health and would like to be center of attention once again. Zeba is 10 years old, negative for FeLV & FIV, utd on vaccines, spayed, microchipped.  She would make someone a great friend!
For more information visit helpfrommyfriends.org or facebook.com/walhfmfpetcrisiscente

From the Charlevoix Humane Society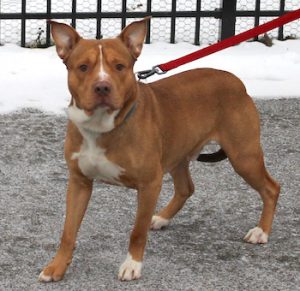 Houdini is our one year old Pit Mix. Really nice boy! Houdini does well as an only pet. He is doing well with house training, and Houdini is smart and willing to learn any and all commands.. Houdini will do best in a home that there is someone there with him most of the time. He will thrive with human companionship. It's not often a dog comes along with the loving temperament of Houdini, you will fall in love with him!
The Charlevoix Human Society's mission is to practice and promote the principle that every life is precious. As such, we are committed to the highest principles of humane care and professional treatment of injured, ill, neglected or abused animals. For more information on pets that are available for adoption or to donate, visit the shelter at 614 Beardsley Street in Boyne City or online at www.charlevoixhumane.org
From AuSable Valley Animal Shelter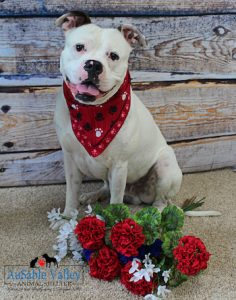 My name is Buster and I am a 3 year old Boxer mix. I know I am adorable! Don't you think so? One of my best qualities is that I am so affectionate. That means I LOVE to snuggle, give kisses and love on you all day long! This face will definitely cheer you up if you're sad, so don't worry about feeling blue when I'm around! My heart will fill you up with joy because of all the love I have to share. We will be partners for life! One other thing that I love is my toys. When you play with me we will both get exercise. What a great way to stay healthy – playing with me all day. Life couldn't get any better! I am housebroken so that means I'm a good boy and go potty where I'm suppose to. If you have kids or other dogs, I'm fine with that. In fact, I am playful so I can entertain them. If you adopt me we will have so much fun! If I become yours, you will never forget the day you brought me home and made me a part of your family.
For more information, please call the shelter at (989) 348-4117 or e-mail: avascares@yahoo.com
AuSable Valley Animal is a privately funded nonprofit animal shelter. We are a No Kill facility and stray center for dogs within Crawford county and a closed admission No Kill cat shelter. Our main goals are rehab and rehome, education, and animal welfare within our community.
Visit us online at www.ausablevalleyanimalshelter.org.
From Cheboygan County Humane Society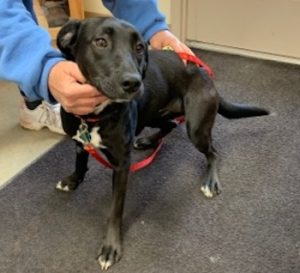 Molly is one and a half years old, spayed, chipped and UTD on shots, adoption fee $90.00. Molly is a Lab/Retriever mix, unsure her mix, so she is probably done growing but may fill out more. Molly was a stray when she came to us so we do not know her temperament with other dogs, cats or kids. Molly has been around kids and SEEMED ok with them. She has also been around other dogs and was very vocal, but we are not sure if she liked being around them or not. She has seen cats from a distance but didn't really pay much attention to them. Molly is house, crate and leash trained. She walks well on leash. Molly is full of energy! A home without other dogs may be best, we do require meet and greets with dogs currently in the home of potential adopters.
Please visit their website at cheboyganhumanesociety.org. Or stop by the shelter at 1535 Hackleburg Road, Cheboygan. Call 231-238-8221 for more information. Shelter hours are Mon-Fri 9-4pm and Saturday noon-4pm.