If you are looking for a new furry family member for your home, please consider adopting from one of our area shelters. There are thousands of pets each year in Northern Michigan who lose their family for one reason or
another. Rescue is love!
From the Little Traverse Bay Humane Shelter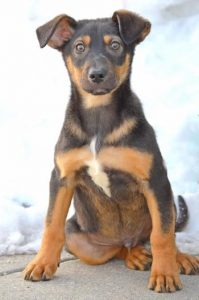 I hear National Puppy Day is coming up, so what better way to celebrate than to adopt a puppy?? And if I'm being honest, I'm hoping that it may be me! I'm just a little guy, only 12 weeks old, and I'm here looking for a new home. Hmmm, what can I tell you about me? For starters I guess a name would be good! My name is Oso, and I'm a shepherd mix who is very friendly and playful. I love snuggling and giving kisses-what more could you want of from a new puppy?? Come meet me soon-hopefully I won't be here long!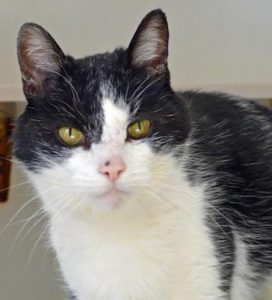 Hi all, my name is Tami and I'm a six year old gal who is looking for a new family to love. Yes, you read that right; I'm six years old. I know that's a little older than most of my roommates, but I like to think that it's good to have someone more mature like me around to keep an eye on these youngsters. Don't get me wrong, just because I'm middle-aged, doesn't mean I don't have any spunk left in me! I love to play and very much enjoy pets from anyone who wants to love on me. I admit, though, I can be a little timid when I first meet someone. However, if you take a few minutes to get to know me, I open right up! I don't come out of my kitty condo very often, so you won't likely see me hanging around the front desk like some of my more social counterparts. That doesn't mean I don't want to meet you, though. On the contrary, I'm hopeful that someone will read this and make an effort to stop by and say hello. You never know, we just may hit it off!
The LTBHS located on West Conway Road, between Petoskey and Harbor Springs is a no kill shelter that helps find  homes for over 500 dogs and cats each year. The LTBHS is completely funded thru donations. All pets adopted from LTBHS are neutered and have received a vet check and shots. For more information about all pets available for adoption or to donate, visit them online at www.ltbhs.com

Cherryland Humane Society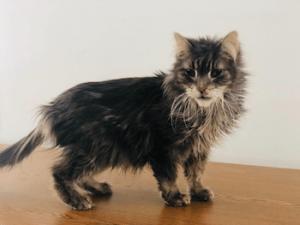 Shaggy
is our Pet of the Week this week! She is a s
enior
c
at
with an
unknown age (best guess is over 16+)
.
Shaggy arrived at CHS through a rough situation, he was not well cared for and needed immediate medical attention.
Shaggy is a senior cat who is struggling in the shelter setting
with 
the stress of not being in a comfortable home due to his age and health. He came to CHS with an upper respiratory infection, and has not improved. We need to find Shaggy a hospice home to spend the rest of his life where he
is
comfortable and loved
!
You never know how an animals health may change in a home or shelter setting
so we are unable to give a prognosis.
Shaggy has the most willing and affectionate personality. He is so friendly and loving. He can be shy at first but warms up and loves to be close to you. He also loves to slobber all over you with wet kisses. He came in with other senior cats, not sure how he is with dogs. Please contact CHS staff for details, questions, or how to meet Shaggy!
Come in for a visit or you can check them out on our website, CherrylandHumane.org.
Cherryland Humane Society is a private, no kill animal shelter servicing Grand Traverse and Leelanau counties. We are an independent, 501-C, non profit organization. CHS is dependent on donations, fundraising activities, estates, planned giving, memorials and occasional grants for operation. Visit our available pets online at cherrylandhumane.org
AC PAWS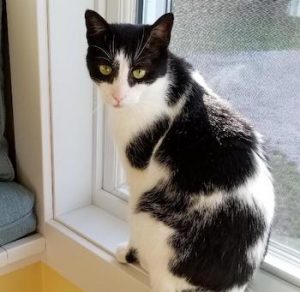 Tyke was a stray that came to AC PAW in 2016. In his foster home, he started out timid, easily spooked, and hiding in a box in a closet. With time and acceptance, Tyke has become a talkative guy with his foster folks, Jan and Sam.
He loves to have his head scratched, give playful love bites and likes to spend the evening in their laps. He's a cute, slightly quirky, non-dominant companionable cat. Tyke's fosters discovered he has an allergy that requires a prescription good and daily steroid pills. As long
as he eats the right food, he is a pretty low-maintenance pet. The amount of care he requires is small compared to the love he has to give you in return. Tyke is a very handsome four year old black and white cat. He is a very good-natured kitty who would be a wonderful friend and companion. He had a very rough start in life and deserves this second chance to have a loving, forever home. If you would like to adopt Tyke, or for more information, go to ACPaw.org and  fill out a pre-adoption questionnaire.
AC PAW was founded in 1995 to give animals a second chance at life. The non-profit, no-kill shelter started as a safe haven for animals from abuse, hunger, disease and death. AC PAW has now rescued over 6,000 animals in the northern Michigan region and services the five-county Grand Traverse area.
Help From My Friends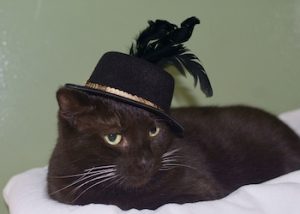 Sweet
JJ
is looking for a lap. He would be more than happy to snuggle with you all day long!
JJ
is 8 years old, neutered, up to date on shots, tested negative for FeLV/FIV and microchipped.
For more information visit helpfrommyfriends.org or facebook.com/walhfmfpetcrisiscente

From the Charlevoix Humane Society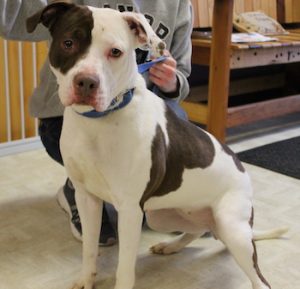 Buffy came to us from Van Buren county, Michigan through our shelter outreach program. She is a high energy, bouncy and very playful girl. She would do best in a home without small children, but probably a great companion for teens and pre-teens. She is super loving and craves a good belly rub. Buffy would really shine with an active family and a great big yard to run and play.
The Charlevoix Human Society's mission is to practice and promote the principle that every life is precious. As such, we are committed to the highest principles of humane care and professional treatment of injured, ill, neglected or abused animals. For more information on pets that are available for adoption or to donate, visit the shelter at 614 Beardsley Street in Boyne City or online at www.charlevoixhumane.org
From AuSable Valley Animal Shelter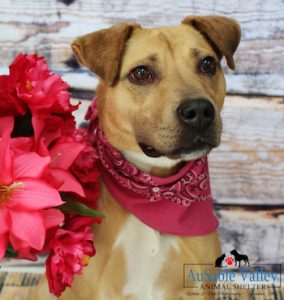 My name is Gina and I'm a 3 year old mixed breed dog. I love people and most dogs but cats are a different story. I think they are a bit jealous of how adorable and cute I am so they're kind of mean to me. I mean, I can't help it that I'm so cute. I like to pick my own friends because then I can see if they're nice enough or if they're going to be mean. You don't want my cuteness to go away, do you? One of my favorite things to do is go for a good, long walk. Let's face it. Exercise is good for both of us. It will be more fun because we're doing it together. I'm a very loving dog with a lot of good things in my heart. I will never give up on you, so please don't give up on me! I hope you can make me a part of your family soon!.
For more information about Gina, please call the shelter at (989) 348-4117 or e-mail: avascares@yahoo.com
AuSable Valley Animal is a privately funded nonprofit animal shelter. We are a No Kill facility and stray center for dogs within Crawford county and a closed admission No Kill cat shelter. Our main goals are rehab and rehome, education, and animal welfare within our community.
Visit us online at www.ausablevalleyanimalshelter.org.
From Cheboygan County Humane Society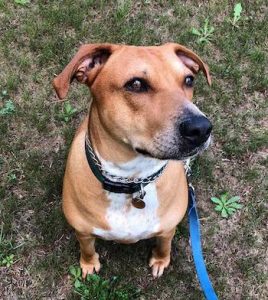 Sadie has been here for almost a year and is still looking for a home. Please help us find Sadie a home. Pass the word and get her information out there so we can find her a loving home. She is such a sweet girl.  (ADOPTION FEE HAS BEEN SPONSORED!)
Sadie is a Coonhound pitbull mix that has been looking for her forever home since May. She is spayed and up to date on her shots and would love for someone to take her home. Sadie has been waiting for her new family since May and we would love for her to find the
m. Sadie is a little over 6 years old and is looking for a home with no other pets or children. Sadie is protective, loves to go for walks and cuddle on the couch with you. Sadie does have a Thyroid problem that requires her to be on medication. Bonnye loves to take Sadie out for walks and has noticed that she sits, shakes and does high fives. She is potty trained and keeps her kennel very clean. She loves attention like being petted and loves to go for walks. Sadie would love for you to come out and take her for a walk to see if she is the right fit for your home.
Please visit their website at cheboyganhumanesociety.org. Or stop by the shelter at 1535 Hackleburg Road, Cheboygan. Call 231-238-8221 for more information. Shelter hours are Mon-Fri 9-4pm and Saturday noon-4pm.