If you are looking for a new furry family member for your home, please consider adopting from one of our area shelters. There are thousands of pets each year in Northern Michigan who lose their family for one reason or
another. Rescue is love!
From the Little Traverse Bay Humane Shelter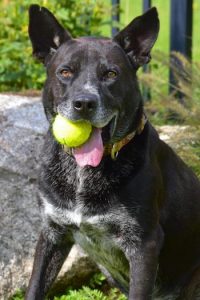 My big question is: Why am I still here? Isn't there a forever home somewhere for a unique guy like me. Sure I was a stinker dog when I first came to LTBHS almost two years ago, but time passes and ever since I attended training camp-several times in fact-my behavior has greatly improved. Walker is my name and finding a forever home is what I desire more than anything now. I'm a four year old Australian Cattle dog/boxer mix, a rather large one, which means I have a big loving heart that I'd like to share with you. I was once a stray and boy am I glad that someone cared enough to rescue me. Living out on the streets by myself was not my idea of a good time. My life was not easy and I think there are a few things that you should know about me; I'm trying to be honest here. First, I can't go to a home with cats-they are just too tempting to chase! And second, everyone here says I'd do best in a home with older children-the little ones might not understand that I don't like sharing my toys or treats-no exceptions!. And finally, I need a fenced in yard in order to keep me safe and prevent intruders from coming around. But here's some good news: even though I am extremely choosy about other dogs, I recently found a new girlfriend at the shelter. I loved spending time with her and we had a wonderful time romping around in the yard together! Sadly for me, but happily for her, she now has a forever home. I really miss her, but the point I'm trying to make here is; if you have another canine companion in your home, I'd be open to a meet and greet. And since I've put so much effort into my training, I learned plenty about how a well mannered boy should behave. I know that sounds like a lot to take in, but I promise if you'll give me a chance, I know I can be your best dog ever!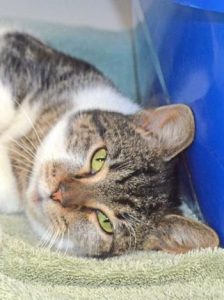 For the life of me, I still can't figure out how I ended up homeless-a stray, no less. I try not to be embarrassed about this fact, because, as I've been told, it's not my fault. But honestly, it makes me feel terrible to know that I was left to fend for myself outside in the middle of winter no less! Thankfully, I was rescued and am now warm, comfy and well cared for. As nice as this place is, I'd really like to have a family of my own. I have a lot of love to give and I'm about the friendliest guy you'll ever meet, so I hope I won't have to wait long. My name is Trey, by the way, and I'm only a year old, just so you know. Come visit me soon-I'm in the main cat room patiently waiting for my new family.
The LTBHS located on West Conway Road, between Petoskey and Harbor Springs is a no kill shelter that helps find  homes for over 500 dogs and cats each year. The LTBHS is completely funded thru donations. All pets adopted from LTBHS are neutered and have received a vet check and shots. For more information about all pets available for adoption or to donate, visit them online at www.ltbhs.com

Cherryland Humane Society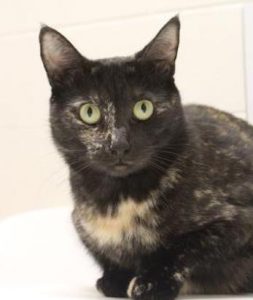 Cherryland's Pet of the Week this week is Kenner!
He is
3.5 years old
and has been with us for over 90 days! Kenner is an 
AWESOME dog
, seriously n
o idea why he is still here.
He l
oves people
, is great
 with other animals
and
with kids.
Kenner is a
ctive
, ha
ndsome
, ge
ntle
, sw
eet
and lo
ves to talk. Will do anything for a treat
, very
 smart
, loves
 to please
and look how handsome
! Think how much fun it would be to snowshoe with this guy by your side!

Come in for a visit or you can check them out on our website, CherrylandHumane.org.
Cherryland Humane Society is a private, no kill animal shelter servicing Grand Traverse and Leelanau counties. We are an independent, 501-C, non profit organization. CHS is dependent on donations, fundraising activities, estates, planned giving, memorials and occasional grants for operation. Visit our available pets online at cherrylandhumane.org
AC PAWS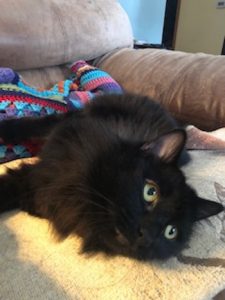 Bart is a sweet, very handsome, very special boy who is going to need a very special family. He is a wonderful cat who loves to play and loves to cuddle. He has a lovely, long black coat and eyes that change from gold to green depending on the angle of the light.  He likes other cats, dogs and every person he meets. Why a very special family?  Bart has a spinal deformity that has limited the use of his back legs. He mainly drags them as he scoots around on smooth floors, but he can get up on them and can use them to push himself to make some great jumps. His foster mom says he is a climber too! It really doesn't slow him down and he is able to use a litterbox.  Bart also has a heart murmur that he was probably born with.  It has not presented any problems for him so far, and cats with murmurs can go on to live long, long lives.  He is a gem of a cat who deserves a loving home with someone who will understand his special needs.  In return, he will love you like crazy! If you would like to adopt Bart, or for more information, go to ACPaw.org and  fill out a pre-adoption questionnaire.
AC PAW was founded in 1995 to give animals a second chance at life. The non-profit, no-kill shelter started as a safe haven for animals from abuse, hunger, disease and death. AC PAW has now rescued over 6,000 animals in the northern Michigan region and services the five-county Grand Traverse area.
Help From My Friends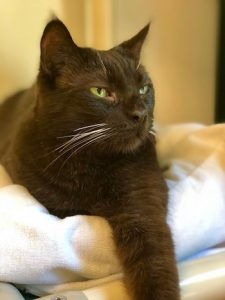 Sweet JJ is looking for a lap. He would be more than happy to snuggle with you all day long! JJ is 8 years old, neutered, up to date on shots, tested negative for FeLV/FIV and Microchipped.
For more information visit helpfrommyfriends.org or facebook.com/walhfmfpetcrisiscente

From the Charlevoix Humane Society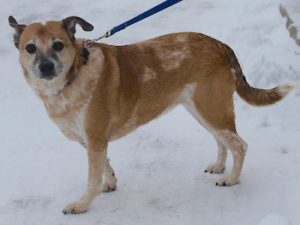 Meet our girl Lou. She is our 10 year old Cattle Dog mix that is ready to find her "forever" home.
Lou is a little set in her ways, but has so much love to give.  Lou is house trained, and would do best as the only pet in the home.
If you are looking for a companion that will be your best friend, please consider Lou.
The Charlevoix Human Society's mission is to practice and promote the principle that every life is precious. As such, we are committed to the highest principles of humane care and professional treatment of injured, ill, neglected or abused animals. For more information on pets that are available for adoption or to donate, visit the shelter at 614 Beardsley Street in Boyne City or online at www.charlevoixhumane.org
From AuSable Valley Animal Shelter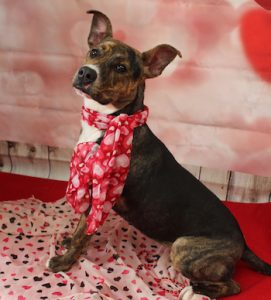 Beautiful Sasha is about 1 1/2 year old. She is not a particularly brave dog and is looking for a calm and confident owner. A quiet home with adults would suit her well. This lovely 35 pound white and brindle girl has the most expressive and impressive ears, all the better to hear those long awaited words, "Let's go home, Sasha."
She does well with other nice dogs and loves her treats and tummy rubs. Sasha does not do particularly well with cats so a feline free home would be best.
Sasha came to AVAS from Genesee County Animal Shelter through our Angel Program. She is a sweet and special dog that needs to be loved and gain a bit of confidence. This sweetie has been spayed, is up to date on her vaccinations and has been micro-chipped. She is all ready for his fabulous new life.
For more information, please call the shelter at (989) 348-4117 or e-mail: avascares@yahoo.com
AuSable Valley Animal is a privately funded nonprofit animal shelter. We are a No Kill facility and stray center for dogs within Crawford county and a closed admission No Kill cat shelter. Our main goals are rehab and rehome, education, and animal welfare within our community.
Visit us online at www.ausablevalleyanimalshelter.org.
From Cheboygan County Humane Society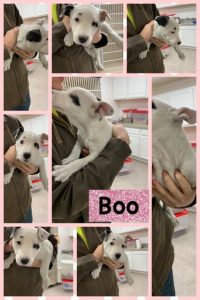 Boo is looking for a home! We believe that she is a Dalmatian/ Pit Bull mix. She is about 16 weeks old, spayed, chipped and UTD on shots, adoption fee is $90.00. Boo will need to be trained in all areas as she is still very young, but she should be a fast learner. Boo is a big cuddler and loves to give lots of kisses! We are not sure what her temperament is with other dogs, cats or kids at this time. Please keep in mind that we are a FIRST COME FIRST SERVE IN SHELTER, shelter. You must be pre-approved to adopt. Go to our website to fill out the online adoption questionnaire. We also do not hold animals for anyone for adoption. Thank you.
Please visit their website at cheboyganhumanesociety.org. Or stop by the shelter at 1535 Hackleburg Road, Cheboygan. Call 231-238-8221 for more information. Shelter hours are Mon-Fri 9-4pm and Saturday noon-4pm.
Heather's Hounds is brought to you by Tropic Cove, located behind the D&W Plaza in Petoskey. Visit Tropic Cove online or follow them on Facebook.