If you are looking for a new furry family member for your home, please consider adopting from one of our area shelters. There are thousands of pets each year in Northern Michigan who lose their family for one reason or
another. Rescue is love!
From the Little Traverse Bay Humane Shelter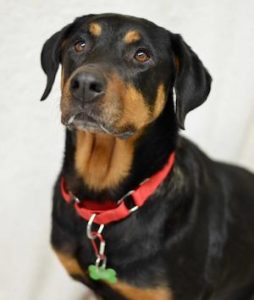 Looking for a sweet dog that is perfect in most every way? Then maybe we have something in common, because I just happen to be looking for the almost perfect forever family. I realize no one is totally perfect, but we like to think that we're pretty darn close and I'm all for that. My name is Gigi and I'm a four year old Rottweiler mix in need of a loving home without cats. Cats are my weakness, they bring out the naughtiness in me. Other than that I'm a great dog. I even like car rides! However, I may need to meet your other dog before we make any commitments. Once in a while I find a canine that doesn't agree with me, but for the most part I'm usually friendly with everyone-except for cats that is, please don't forget about that. If you could just take a few moments to come visit with me, I could give you a demonstration of my charming personality. I hope to see you soon.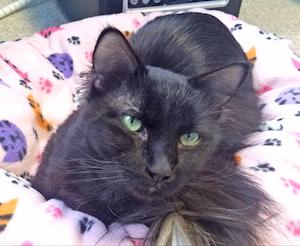 Did you ever watch that funny Halloween movie as a kid and think it would be neat to have a talking cat? Well, just like the cat in Hocus Pocus, my name is Binx and I promise to talk to you every day if I'm able to join your family—in my own way, at least. I'm only two years old and I arrived with a bunch of my friends to LTBHS. So far, no one has really paid too much attention to us, maybe because some people think black cats are boring (more like sophisticated in my opinion!) or there are still some that find black cats superstitious. Whatever the reason, I hope you will stop by to say hello and let my loving personality speak for itself!
The LTBHS located on West Conway Road, between Petoskey and Harbor Springs is a no kill shelter that helps find homes for over 500 dogs and cats each year. The LTBHS is completely funded thru donations. All pets adopted from LTBHS are neutered and have received a vet check and shots. For more information about all pets available for adoption or to donate, visit them online at www.ltbhs.com

Cherryland Humane Society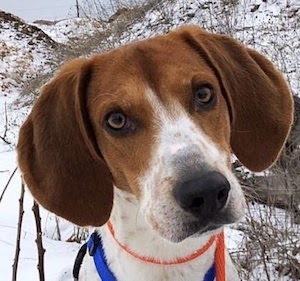 Dasher has the cutest snout and floppy ears for a reason – he loves to run and run and run! Full of energy, he will make a great addition to any family that loves to hike, play outside, and go for adventures. But at the end of the day when he is all tuckered out, Dasher will snuggle on the couch or in your lap, and be your best friend in the world.
Cherryland Humane Society is a private, no kill animal shelter servicing Grand Traverse and Leelanau counties. We are an independent, 501-C, non profit organization. CHS is dependent on donations, fundraising activities, estates, planned giving, memorials and occasional grants for operation. Visit our available pets online at cherrylandhumane.org
AC PAWS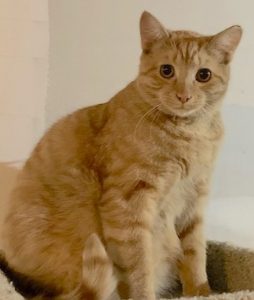 SIMBA is a wonderfully sweet boy. He is shy at first so patience is required, but you will be rewarded with an affectionate, calm and passive cat. He is great with other cats and immediately curious and friendly rewards them so he would be suited to a home with a friendly cat as his potential best friend. You can meet Simba at PetSmart. He is an orange tabby, a young cat, just eight months old, go
www.acpaw.org
and fill out a pre-adoption questionnaire.
AC PAW was founded in 1995 to give animals a second chance at life. The non-profit, no-kill shelter started as a safe haven for animals from abuse, hunger, disease and death. AC PAW has now rescued over 6,000 animals in the northern Michigan region and services the five-county Grand Traverse area.
Help From My Friends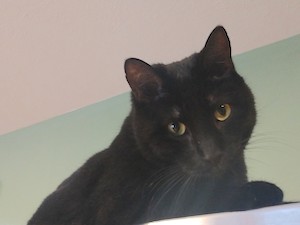 Wink is such a cool cat!  He's the big brother to the kittens in the cat room and is very good at it! Wink is 4 years old and resembles a small panther. He is neutered, negative for FeLV & FIV, current on vaccines and microchipped.
If you're interested, please call the center at (231) 533-4070. 
For more information visit
helpfrommyfriends.org
From the Charlevoix Humane Society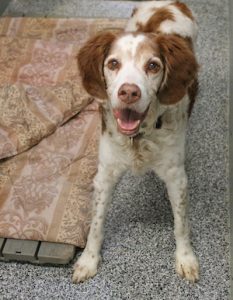 Shamus is our elder statesman. He had been living a quiet life on Beaver Island until his owner passed away. Now he waits quietly in a scary place for someone to rescue him. Shamus has many of the things that haunt dogs when they get older, he is deaf, partially blind and slow moving. We believe that given the proper foods and medications Shamus will be able to regain some of the muscle and energy he has lost. If you think you may be the right one to give Shamus a warm, safe home for his golden months, now is the time.
The Charlevoix Human Society's mission is to practice and promote the principle that every life is precious. As such, we are committed to the highest principles of humane care and professional treatment of injured, ill, neglected or abused animals. For more information on pets that are available for adoption or to donate, visit the shelter at 614 Beardsley Street in Boyne City or online at www.charlevoixhumane.org
From AuSable Valley Animal Shelter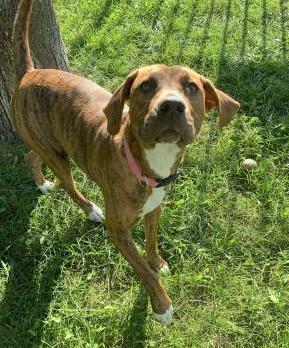 My name is Daisy and I am 8 years old. I'm a sweetheart of a puppy with a bucket load of energy! I also have loads of personality to go along with that energy. I love toys, belly rubs and playing with a tennis ball. I could fetch that ball all day long! I will play with just about anything you give me! I like some dogs. I'm just a bit picky with my dog friends. If you're still reading this then maybe I'm the one for you! I will complete you. You and me fur-ever???

For more information, please call the shelter at (989) 348-4117 or e-mail: avascares@yahoo.com
AuSable Valley Animal is a privately funded nonprofit animal shelter. We are a No Kill facility and stray center for dogs within Crawford county and a closed admission No Kill cat shelter. Our main goals are rehab and rehome, education, and animal welfare within our community.
Visit us online at www.ausablevalleyanimalshelter.org.
From Cheboygan County Humane Society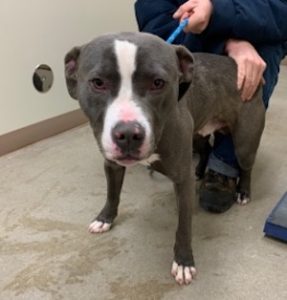 Tito is a 2 year old Pit bull mix. He is neutered, chipped and up to date on shots. His adoption fee is $90.00. He did come to us as a stray but was not claimed and is now looking for a forever home. Tito was introduced to another dogs and that didn't go over very well. Tito appears to be house and crate trained. However, he will need lots of help with the leash thing. Tito seems to be very sweet and friendly and loves treats. If you are interested in Tito and have a dog/s currently in your home, we require a meet and greet at the shelter between Tito and the current dog/s.
Please visit their website at cheboyganhumanesociety.org. Or stop by the shelter at 1535 Hackleburg Road, Cheboygan. Call 231-238-8221 for more information. Shelter hours are Mon-Fri 9-4pm and Saturday noon-4pm.