Welcome to the home of The KHQ Morning Show with Rizzo, Jeff, and Lisa, heard every Monday through Friday from 5:30 – 10:00 a.m. on 106 KHQ!
The KHQ Morning Show Podcast is the best and most listened to in Northern MI! Our podcast is updated every single day with fresh audio from that morning's show.
So if you had to take the kids to school or head into work early? You can always find what you missed here on the KHQ On Demand page. If you appeared on an episode of the KHQ Morning Show, you'll find your calls here, edited into one commercial-free segment! I'll even send you a copy, just shoot me an email.
Questions or suggestions for the show? Email us anytime at rizzo@106khq.com, Facebook us on the 106 KHQ Morning Show Page or the 106 KHQ page, and be sure to call the show, often!
Be sure to Follow all social and now my Snapchat @rizzoontheradio.
Thanks for Listening
-Rizzo, Jeff & Lisa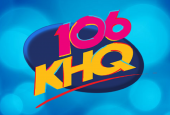 If your parents NEVER believed in you, then fell on hard times would you help them out!!!
10-18-2019
And then there was Maude…
Lisa had to arrest a goat today!
10-17-2019
Second Date Update- Lisa's Creeper
The Rest of the Show~
I bought a pair of Leather Pants and Jeff and Lisa HATE THEM! I think they look GREAT!
That Cornflakes Chicken RUINS Cereal for Rizzo, ALL THE TIME!
Dane out 12 year old fan called to do accents and he was… well… better than Lindsay Lohan
Dr. Tuande sent me a letter and said he was trapped in space! He needs my Bank Account # to get home!!! He has been in space since 1990, that's 30 Years!!!
10-02-2019
Kids Bop released their newest album and I am HYPE! Jeff and Lisa are NOT! Do you like Kids Bop…
Listener Court today was to decide if I would let Jeff decorate or not? So who won?
Lisa LOVES fruitcakes… Does ANYONE ELSE? Literally anyone?
10-01-2019
Today we had listener Crystal who was photoshopped by her husband. Thing is it really does not bother her. Needless to say not many people believed her… At All!!!
1 out 0f 3 people have not read a book in AT LEAST a year! So we wanted to get you all excited about reading again. Did it work?
If you were trampled by Bison on a date would you go back?
OH HECK… As Lisa likes to SAY… OH HECK!!!
09-30-2019
The whole crew is back together and we are back to regular! The InstaPot vs. The Emeril… Can we convert her?
Sometimes Adult Time Out is a good idea… I think my bosses WISH they could put me in to it!!!
The TC TURKEYS have gone missing! Help us locate them!!!
What a let down… our favorite Halloween Candy in MI is… YUCK!
Are Jeff and I in a domestic partnership? Just because I got him Balloons?
09-27-2019
The "RIZZO TERROR TOUR" begins TONIGHT, 9pm at The Ghost Farm at Kingsley (check out their website and see all the cool things to do with the family! www.hauntedtraverse.com
I spoke about it today and I really meant that I need support. Get your tickets at the link below and check out our podcast! This is going to be epic!!!