The act of taking care of small humans day in and day out while trying to stay somewhat sane is a tough job…and we want to hear about it! 
 #Momconfessions 
Listen every weekday Morning at 7:20a.m. and 9:20a.m with Robby and Rochelle for Mom Confessions!
Send us your confession for a chance to grab a $25 Gift card to Mims Mediterranean Grill in Petoskey. Head over to our socials and  use #MOMCONFESSIONS on Twitter or Facebook and we will choose 2 winners every week!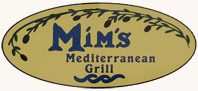 Mim's Mediterranean Grill in Petoskey, Northern Michigan's favorite Gyros!
Stop at Mim's Mediterranean Grill and enjoy authentic Mediterranean Cuisine. Open for To go Orders Only, Monday thru Saturday 11a-8p lunch or dinner.