If you are looking for a new furry family member for your home, please consider adopting from one of our area shelters. There are thousands of pets each year in Northern Michigan who lose their family for one reason or
another. Rescue is love!
From the Little Traverse Bay Humane Shelter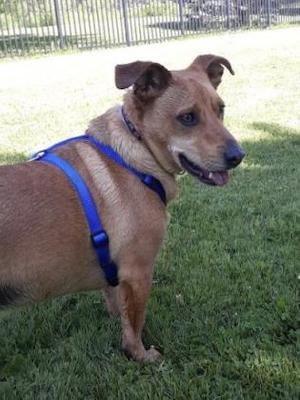 My name is Chandler and I'm a three year old terrier/beagle/something or other mix. I was adopted as a puppy and it seems that my previous family, who loved me dearly by the way, was unable to keep me contained. What can I say? I'm a social guy and I like to visit the neighbors. It looks like I'll need a fenced in yard and plenty of long walks so I can get the travel bug out of my system. I'm very friendly with everyone once I get over my initial shyness. Trust me, it doesn't take long before I'm giving out those slobbery face kisses, which is why I love children so much-they don't mind that type of kissing. I'm pretty good with other dogs, however I prefer to meet new play pals beforehand. I'm not a large dog, but I'm not small either. I like to refer to myself as the perfect size for a family looking for a good furry friend. I sure hope I'm the guy for you, please come meet me soon. Many Kisses, Chandler.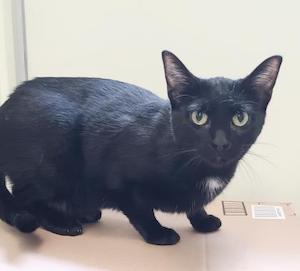 Everyone is a little stressed and confused due to the pandemic that fell upon them and guess what, I'm just a cat and one of life's little uncertainties struck me hard too. And not only me, but my entire cat family as well. Eleven of us were dumped in the middle of the night at a strange place with unfamiliar smells. I was terrified as were all my relatives. Lucky for us friendly folk welcomed the lot of us into their barn and therefore gave us a temporary home. We were given plenty to eat and our health needs were taken care of. My new name is Dexter and I'm a one year old black cat who is very friendly, though a little insecure. I would like to share a home with my good friend Cricket who has been a great help to me throughout this tragedy. It would be heartbreaking for me to live without her. I know two cats seems like a lot at first, but just think, it's way less than eleven! We would be ever so grateful to you for the rest of our lives. I hope you'll come visit with us soon, many purrs, Dexter.
The LTBHS located on West Conway Road, between Petoskey and Harbor Springs is a no kill shelter that helps find homes for over 500 dogs and cats each year. The LTBHS is completely funded thru donations. All pets adopted from LTBHS are neutered and have received a vet check and shots. For more information about all pets available for adoption or to donate, visit them online at www.ltbhs.com

Cherryland Humane Society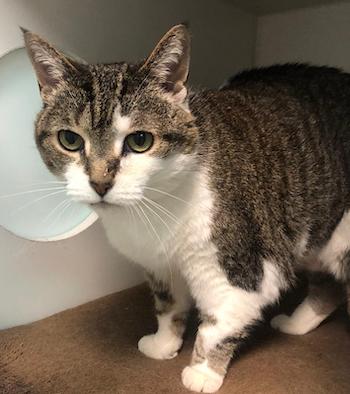 Name: Madam
Info: Female, 8 years old
Days At the Shelter: 120+ days
Description: Madam is a kool, kool kat! She is a very affectionate girl. She loves head rubs, ear rubs, and just about any lovings that she can get! She's been looking for her home for 100+ days, too long if you ask us! Madam is a quiet girl and is quite content with some tasty cat treats and a comfy couch to nest upon. She'd be the perfect movie and popcorn night companion too! Interested in this sweet girl? Contact CHS to setup a time to come in and meet her!
Cherryland Humane Society is a private, no kill animal shelter servicing Grand Traverse and Leelanau counties. We are an independent, 501-C, non profit organization. CHS is dependent on donations, fundraising activities, estates, planned giving, memorials and occasional grants for operation. Visit our available pets online at cherrylandhumane.org
AC PAWS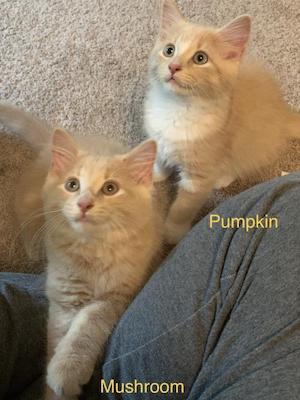 As we continue to ensure the wellness and safety of the community and our AC PAW volunteers, the cattery at PetSmart will
remain closed.
However, AC PAW is now doing carefully structured and safe adoptions by appointment only.  Visit our website at
www.acpaw.org
to see our cats and dogs ready for their forever homes.  If you are interested in adopting, fill out a pre-adoption questionnaire online.
An AC PAW volunteer will contact you to go over our adoption process. We continue to manage the AC PAW organization and rescue
animals in need.  We need your support more than ever.
AC PAW was founded in 1995 to give animals a second chance at life. The non-profit, no-kill shelter started as a safe haven for animals from abuse, hunger, disease and death. AC PAW has now rescued over 6,000 animals in the northern Michigan region and services the five-county Grand Traverse area.
From the Charlevoix Humane Society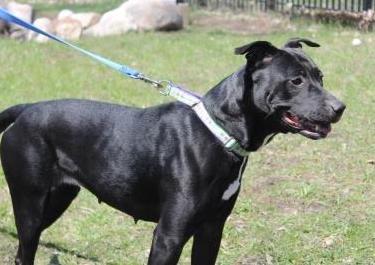 Spirit is a 1 to 1 1/2 year old retriever/pit mix. She came to us from another shelter and we know little about her past. We do know that she is very high energy, craving attention and has a underdeveloped back leg. Her leg had a bad open wound when she came to us and doesn't have the muscular development that the others do. Her wound is healing nicely and she is able and willing to put weight on it now. She has been getting regular short walks. Spirit will require some training and patience, but in the long run will be a wonderful family member. She would like nothing more than to be held and loved.
The Charlevoix Human Society's mission is to practice and promote the principle that every life is precious. As such, we are committed to the highest principles of humane care and professional treatment of injured, ill, neglected or abused animals. For more information on pets that are available for adoption or to donate, visit the shelter at 614 Beardsley Street in Boyne City or online at www.charlevoixhumane.org
From AuSable Valley Animal Shelter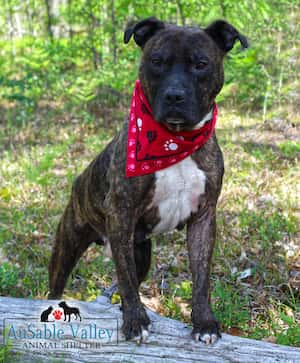 My name is Jenkins! I consider myself quite a gentleman as I am super friendly. I'm 7 years old and love any kind of adventure as long as there aren't any scary kitties. I don't do so well with kitties. I'm a careful pup so I can be picky about my dog friends. But, as a human you'll be my best bud. You won't have to worry about exercising everyday when you have a friend as active as me. We can chase our tails all day! Trust me, that's a solution to every problem. I'm a mixed breed which makes me not only your best friend, but you're handsome bestie! Oops! I almost forgot! I love snuggles! So if you ever feel down, I'll be right there to give you love! I can't wait to meet you, and I love you already!
Love, Jenkins and Lizzie
While our shelter is closed to the public, we are conducting no-contact adoptions! As always, if you have any questions about our pets available for adoption please call the shelter at (989) 348-4117 and speak with the shelter staff.
AuSable Valley Animal is a privately funded nonprofit animal shelter. We are a No Kill facility and stray center for dogs within Crawford county and a closed admission No Kill cat shelter. Our main goals are rehab and rehome, education, and animal welfare within our community.
Visit us online at www.ausablevalleyanimalshelter.org.
From Cheboygan County Humane Society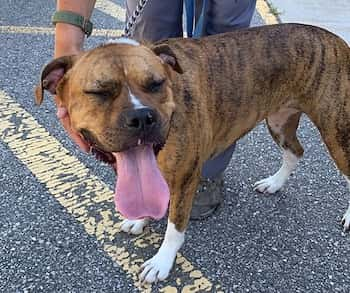 Lilly is 2.5 years old, spayed, chipped and UTD on shots, adoption fee $90.00. Lilly is NOT good with other dogs as she does have dog aggression, and should not go to a home with kids, but is ok with cats. She is extremely high energy and loves long walks. A fenced in yard would be great for her but not a deal breaker. Lilly is very protective of her home and is on the dominate side of things. She is not crate trained but is leash and house trained. Lilly is a happy and friendly lady! She does have a tendency to jump on you still. And watch out for that infamous Pittie tail! It hurts!
Please visit their website at cheboyganhumanesociety.org. Or stop by the shelter at 1535 Hackleburg Road, Cheboygan. Call 231-238-8221 for more information. Shelter hours are Mon-Fri 9-4pm and Saturday noon-4pm.