If you are thinking about committing suicide, call the National Suicide Prevention Hotline now at 988 or text GO to 741741 to reach a trained Crisis Counselor through the Crisis Text Line, a global not-for-profit organization. Free, 24/7, confidential.
Did you know that some of your favorite KHQ artists have battled and overcome depression and suicidal thoughts? Lady Gaga, Nicki Minaj, and Sia are just a few examples of people we know as proud and confident performers, but who've also been open about their past struggles with suicidal thoughts. And there are countless others! Pete Davidson of SNL, movie star Halle Berry, and
Suicide is now the 10th leading cause of death in America. It is the 2nd leading cause of death among youth aged 10-14 and 3rd leading cause for those aged 15-24. Although women attempt more suicides than men, 79% of those who die by suicide are male.
If you or someone you know is struggling with depression or suicidal thoughts, we hope you'll use this as an opportunity to #BeThe1ToHelp.
Key Facts:
79% of all people who die by suicide are male.
Although more women than men attempt suicide, men are 4x more likely to die by suicide.
Suicide is the 2nd leading cause of death among people aged 10–14 and the 3rd leading cause of death among people aged 15-24 in the U.S.
Suicide is the 12th leading cause of death overall in the U.S.
46% of people who die by suicide had a diagnosed mental health condition – but research shows that 90% may have experienced symptoms of a mental health condition.
Annual prevalence of serious thoughts of suicide, by U.S. demographic group:
The highest rates of suicide in the U.S. are among American Indian/Alaska Natives followed by non-Hispanic whites.
Lesbian, gay and bisexual youth are nearly 4x more likely to attempt suicide than straight youth.
Transgender adults are nearly 9x more likely to attempt suicide than the general population.
Suicide is the leading cause of death for people held in local jails.
Statistics provided by the National Alliance on Mental Hillness (NAMI).
Warning Signs:
Talking about wanting to die or wanting to kill themselves
Talking about feeling empty or hopeless or having no reason to live
Talking about feeling trapped or feeling that there are no solutions
Feeling unbearable emotional or physical pain
Talking about being a burden to others
Withdrawing from family and friends
Giving away important possessions
Saying goodbye to friends and family
Putting affairs in order, such as making a will
Taking great risks that could lead to death, such as driving extremely fast
Talking or thinking about death often
Other serious warning signs that someone may be at risk for attempting suicide include:
Displaying extreme mood swings, suddenly changing from very sad to very calm or happy
Making a plan or looking for ways to kill themselves, such as searching for lethal methods online, stockpiling pills, or buying a gun
Talking about feeling great guilt or shame
Using alcohol or drugs more often
Acting anxious or agitated
Changing eating or sleeping habits
Showing rage or talking about seeking revenge
Provided by the National Institute of Mental Health.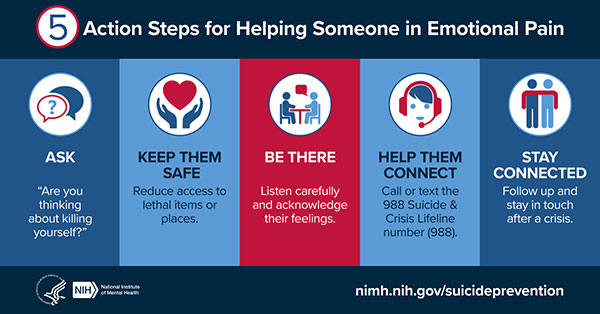 Additional Resources: